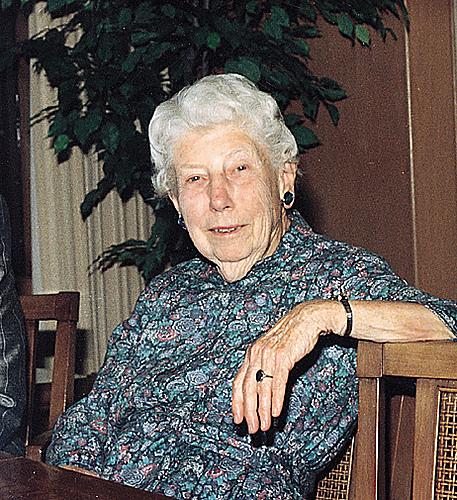 Lillian Anderson was born in 1903, the only child of Mary Elizabeth ('May') Bell and Edward Anderson. Edward's father, Duncan Anderson, was one of the pioneers of Oshtemo Township, arriving in the area from Genesee County, New York, in 1838. The most desirable land for settlement was open grassland with widely scattered, large trees. Duncan and his fellow New Yorkers discovered just such an area in present day Oshtemo and named it Genesee Prairie. His original homestead was located on the south side of KL Avenue, not far from the present Arboretum property.
Edward Anderson, Lillian's father, was born in 1856. In 1890 he moved a half mile north and bought the current Arboretum property, leaving his father and younger brothers to work the original homestead. He farmed the land until his death in 1935, after which a manager kept most of the area under cultivation until sometime in the mid-40s. Edward, May and Lillian lived in the white clapboard, Greek Revival house which is located just to the East of the Arboretum parking lot. After her parents' death, Lillian continued to occupy the house until the mid-70s when she moved to Friendship Village in Kalamazoo.
May Bell Anderson was a part-time school teacher as well as a full-time farm wife and she inspired her daughter to complete her secondary education at Central High School and then to attend Kalamazoo College, from which Lillian graduated in 1926. After working in the Kalamazoo Public Library, Lillian traveled to New York where she obtained a Master's degree in Librarianship from Columbia University. After returning home she joined the permanent staff of the KPL and remained with that institution for 42 years.
Lillian Anderson never married but her time was fruitfully occupied by her professional duties, her many services to the community, her friendships, her gardens and her lifelong love of nature. In 1982 she donated the family farm property to Kalamazoo College and the First Presbyterian Church. In 1998, with her approval, K College obtained complete ownership of the property and established the Lillian Anderson Arboretum to honor a special alumna and very generous benefactor.
Lillian passed away in 2001 and Kalamazoo lost a valued friend and vital link to its pioneer past. We hope the Arboretum will keep alive both her memory and the tradition of resourcefulness and community service which characterized her family for more than a century and a half.